Visual Noise Heard Around the County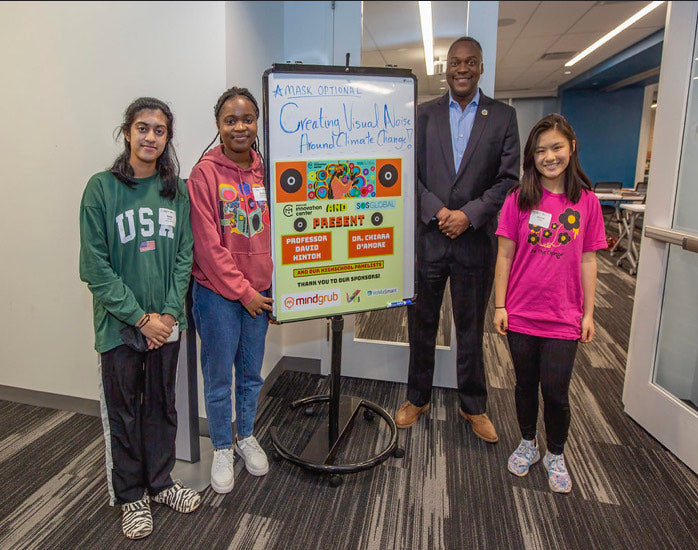 On April 26, 2022, SOSGlobal.earth and the MIC teamed up to celebrate the craft of creative activism. Creating Visual Noise Around Climate Change presented an opportunity for young changemakers to create and engage with art. There was an emphasis on the interconnection between nature and visual expression--the ability to find inspiration and meaning in our ambient surroundings provides a foundation for wonderful masterpieces. 
County Executive Calvin Ball attended the event, and he left the room in awe with his powerful dialogue surrounding the climate and the steps that are being taken to better our local environment. His enthusiasm was ever so present and his charisma never fails to inspire the youth and ignite collective motivation. Joshua Feldmark, Director for Live Green Howard County, also made his memorable entrance, as he accentuated all of the behind-the-scenes work it takes to ensure a healthy, green future. Through stories of Howard County's history and tireless efforts to promote sustainability, Director Feldmark was definitely a highlight! 
The event also welcomed two guest speakers, Dr. Chiara D'Amore and Professor David Hinton, who placed a spotlight on the essentiality of climate activism and the role of art in appreciating nature. Hearing about their expertise was like a breath of fresh air--knowing that there are people who dedicate their careers to better the world and introduce new forms of storytelling is more than energizing. Of course, an event for the youth can't succeed without the voices of the youth: three high school panelists, Rebecca Donovan, Jameelah Destry, and Juliet Pantoulis, awed the crowd with their genuineness and activism. Their undeniable sparkle was the perfect cherry on top to the array of wonderful presentations. 
Attendees had the opportunity to make art out of pinecones and weeds--an array of decorated plates quickly adorned the front table, as people were able to draw inspiration from each other. People were able to enter a new medium through augmented reality headsets, and it felt as if the entire room was blossoming with creativity. To top it off, a massive whiteboard became filled with vibrant swivels and doodles--what started off as a drawing of an earth grew into a web of connecting ideas and thoughts. 
Those who entered the art contest were able to share their talents with watchful audiences and win awards, thanks to our sponsors, Mindgrub, eSPSmart, and VomaSmart. Despite the dreary weather, vivacious colors burst from every corner, thus painting an evening of appreciation and community. Everyone in the room was an artist in some shape or form. Visual noise has never been so loud! 
---